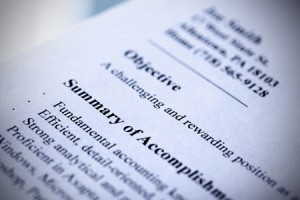 When you review 100 resumes a day for 15 years there are a few things that really stick out.  Most people do a great job in capturing the essence of what they do.  It's clear, concise and includes a nice technical summary.   Once a day we see a resume and notice "big use" of the word… "I". 
Read the following summary below (actual submission):
"I am an accomplished security professional with over 15 years of experience in information security program management, IT governance, regulatory compliance, and risk management. I've had opportunities to implement strategic information security programs for large technology, financial, food and beverage, retail, and telecommunications companies. As Director of Xxxxxx Services, I oversee engagement delivery, manage client relationships, and provide leadership for Xxxxxxt's Security Practice.   Prior to Xxxx, I was a Managing Consultant at XXXXX XX, where I managed large network transformation projects for global clients and provided security practice leadership. I also have an extensive datacenter and web hosting background stemming from my tenure at XXXXXXXX. I'm a published author and hold a number of industry certifications including CISSP, CISM, and CISA."
Now put yourself in the shoes of a hiring manager (which many of you are) and consider what this candidate is trying to say to you?  We all know that most (if not all) projects include a lot of smart people who collaborate with other smart people to come up with complex solutions.  Most projects are difficult and require revisions, patience and inclusion of many skill sets.  When you see 7 – I's, I've & I'm's in one paragraph it could send the wrong message.
Now read this summary (actual submission):
"Senior Manager with experience leading teams in delivery of strategy, technology, and information security projects.  Assist clients to better measure, manage, and control risk to enhance systems and process reliability throughout the enterprise. Directly consult with client management and line resources, provide oversight of managers, consultants and developers, develop process improvements, review and approve deliverables.
Qualifications reinforced by a strong depth and breadth of IT security strategies across a wide array of technologies and information platforms. Excellent analytical skills with critical ability to identify security issues and quickly apply effective resolutions. Dedicated professional with sound leadership skills and proven track record implementing innovative solutions and cost-effective measures."
Don't you get a different vibe from this summary?  He/She leads teams, assist clients and directly consults with various groups.  It's subtle, but most veteran hiring managers pick up on these little indications.  Your resume may get reviewed by only one person in the organization, and you want to give yourself the best chance for a face-to-face interview.
Take the "I" out of your resume and recognize the team!